Printings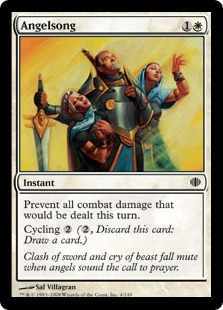 Comments
---
English printing
Instant
Prevent all combat damage that would be dealt this turn.
Cycling (, Discard this card: Draw a card.)
Clash of sword and cry of beast fall mute when angels sound the call to prayer.
French printing
Éphémère
Prévenez toutes les blessures de combat qui devraient être infligées ce tour-ci.
Recyclage (, défaussez-vous de cette carte : Piochez une carte.)
Le fracas des épées et le hurlement des bêtes cessent quand les anges sonnent l'appel à la prière.
Oracle
Angelsong
Instant
Prevent all combat damage that would be dealt this turn.
Cycling {2} ({2}, Discard this card: Draw a card.)
Rulings
Cycling is an activated ability. Effects that interact with activated abilities (such as Stifle or Rings of Brighthearth) will interact with cycling. Effects that interact with spells (such as Remove Soul or Faerie Tauntings) will not. [2008-10-01]