Printings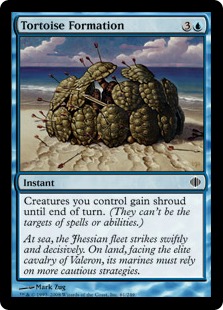 Comments
English printing
Instant
Creatures you control gain shroud until end of turn. (They can't be the targets of spells or abilities.)
At sea, the Jhessian fleet strikes swiftly and decisively. On land, facing the elite cavalry of Valeron, its marines must rely on more cautious strategies.
French printing
Éphémère
Les créatures que vous contrôlez acquièrent le linceul jusqu'à la fin du tour. (Elles ne peuvent pas être la cible de sorts ou de capacités.)
En mer, la flotte jhessienne attaque de façon rapide et décisive. Sur terre, face à la cavalerie d'élite de Valéron, ses troupes marines dépendent de stratégies plus complexes.
Oracle
Tortoise Formation
Instant
Creatures you control gain shroud until end of turn. (They can't be the targets of spells or abilities.)