Impressions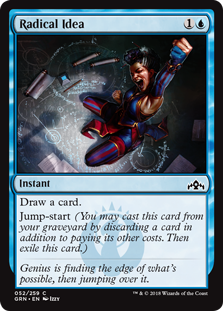 Commentaires
Impression anglaise
Instant
Draw a card.
Jump-start <i>(You may cast this card from your graveyard by discarding a card in addition to paying its other costs. Then exile this card.)</i>
Genius is finding the edge of what's possible, then jumping over it.
Impression française
Éphémère
Piochez une carte.
Relancez (Vous pouvez lancer cette carte depuis votre cimetière en vous défaussant d'une carte en plus de payer ses autres coûts. Puis exilez cette carte.)
Le génie revient à aller aux frontières du possible et à les dépasser.
Oracle
Radical Idea
Instant
Draw a card.
Jump-start (You may cast this card from your graveyard by discarding a card in addition to paying its other costs. Then exile this card.)
Règles
You must still follow any timing restrictions and permissions, including those based on the card's type. For instance, you can cast a sorcery using jump-start only when you could normally cast a sorcery. [2018-10-05]
A spell cast using jump-start will always be exiled afterward, whether it resolves, it's countered, or it leaves the stack in some other way. [2018-10-05]
If an effect allows you to pay an alternative cost rather than a spell's mana cost, you may pay that alternative cost when you jump-start a spell. You'll still discard a card as an additional cost to cast it. [2018-10-05]
If a card with jump-start is put into your graveyard during your turn, you'll be able to cast it right away if it's legal to do so, before an opponent can take any actions. [2018-10-05]