Impressions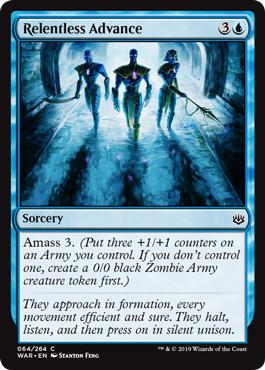 Commentaires
Impression anglaise
Sorcery
Amass 3. (Put three +1/+1 counters on an Army you control. If you don't control one, create a 0/0 black Zombie Army creature token first.)
They approach in formation, every movement efficient and sure. They halt, listen, and then press on in silent unison.
Impression française
Rituel
Amassez 3. (Mettez trois marqueurs +1/+1 sur une armée que vous contrôlez. Si vous n'en contrôlez pas, créez d'abord un jeton de créature 0/0 noire Zombie et Armée.)
Ils approchent en formation ; chacun de leurs mouvements est efficace et assuré. Ils s'arrêtent, écoutent, puis ils reprennent leur marche tous ensemble en silence.
Oracle
Relentless Advance
Sorcery
Amass 3.
Règles
Army is a new creature type. It's possible to control a nontoken Army (perhaps a creature with the changeling ability) and, through combinations of other cards, it's possible to control multiple Army tokens. When instructed to amass, you may put +1/+1 counters on any of your Army creatures, and you may choose a different one each time. [0000-00-00]
If you don't control an Army, the Zombie Army token that you create enters the battlefield as a 0/0 creature. Any abilities that trigger when a creature with a certain power enters the battlefield, such as that of Mentor of the Meek, will see the token enter as a 0/0 creature before it gets +1/+1 counters. [0000-00-00]