Printings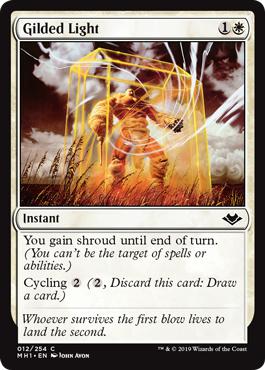 Comments
---
English printing
Instant
You gain shroud until end of turn. (You can't be the target of spells or abilities.)
Cycling (, Discard this card: Draw a card.)
Whoever survives the first blow lives to land the second.
French printing
Éphémère
Vous acquérez le linceul jusqu'à la fin du tour. (Vous ne pouvez pas être la cible de sorts ou de capacités.)
Recyclage (, défaussez-vous de cette carte : Piochez une carte.)
Quiconque survit au premier coup peut décocher le second.
Oracle
Gilded Light
Instant
You gain shroud until end of turn. (You can't be the target of spells or abilities.)
Cycling {2} ({2}, Discard this card: Draw a card.)
Rulings
Cycling is an activated ability. Effects that interact with activated abilities (such as Stifle or Rings of Brighthearth) will interact with cycling. Effects that interact with spells (such as Remove Soul or Faerie Tauntings) will not. [2008-10-01]