Printings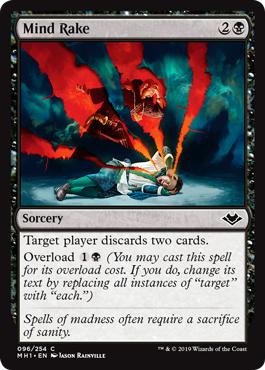 Comments
Informations
Expansion : Modern Horizons - 96/255 (card.rarity.C)
Artist : Jason Rainville
English printing
Sorcery
Target player discards two cards.
Overload (You may cast this spell for its overload cost. If you do, change its text by replacing all instances of "target" with "each.")
Spells of madness often require a sacrifice of sanity.
French printing
Rituel
Le joueur ciblé se défausse de deux cartes.
Surcharge (Vous pouvez lancer ce sort pour son coût de surcharge. Si vous faites ainsi, modifiez son texte en remplaçant toutes les occurrences de « ciblé(e) » par « chaque ».)
Les sorts de folie nécessitent souvent de sacrifier sa raison.
Oracle
Mind Rake
Sorcery
Target player discards two cards.
Overload {1}{B}
Rulings
While most spells with overload affect only permanents you control or only permanents your opponents control, Mind Rake affects all players, including you, if it's overloaded. [0000-00-00]
If you don't pay the overload cost of a spell, that spell will have a single target. If you pay the overload cost, the spell won't have any targets. [0000-00-00]