Printings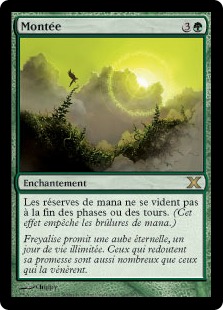 Comments
---
French printing
Enchantement
Les réserves de mana ne se vident pas à la fin des phases ou des tours. (Cet effet empêche les brûlures de mana.)
Freyalise promit une aube éternelle, un jour de vie illimitée. Ceux qui redoutent sa promesse sont aussi nombreux que ceux qui la vénèrent.
English printing
Enchantment
Mana pools don't empty at the end of phases or turns. (This effect stops mana burn.)
Freyalise promised a dawn that would never end, a day of limitless life. As many dread her promise as revere it.
Oracle
Upwelling
Enchantment
Mana pools don't empty as steps and phases end.
Rulings
Players can keep mana in their pool indefinitely while this is on the battlefield, but once it leaves the battlefield, they have until the end of the current step (or phase) to use the mana before it disappears. [2009-10-01]