Printings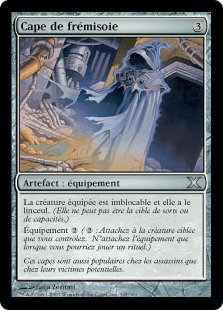 Comments
---
Informations
Expansion : 10ième Edition - 345/383 (card.rarity.U)
Artist : Luca Zontini
French printing
Artefact : équipement
La créature équipée est imblocable et elle a le linceul. (Elle ne peut pas être la cible de sorts ou de capacités.)
Équipement ( : Attachez à la créature ciblée que vous contrôlez. N'attachez l'équipement que lorsque vous pourriez jouer un rituel.)
Ces capes sont aussi populaires chez les assassins que chez leurs victimes potentielles.
English printing
Artifact — Equipment
Equipped creature is unblockable and has shroud. (It can't be the target of spells or abilities.)
Equip (: Attach to target creature you control. Equip only as a sorcery.)
Such cloaks are in high demand both by assassins and by those who fear them.
Oracle
Whispersilk Cloak
Artifact - Equipment
Equipped creature is unblockable.
Equipped creature has shroud. (It can't be the target of spells or abilities.)
Equip {2} ({2}: Attach to target creature you control. Equip only as a sorcery.)