Printings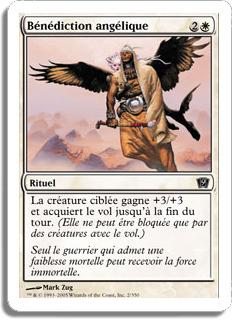 Comments
---
Informations
Expansion : 9ième Edition - 2/350 (card.rarity.C)
Artist : Mark Zug
French printing
Rituel
La créature ciblée gagne +3/+3 et acquiert le vol jusqu'à la fin du tour. (Elle ne peut être bloquée que par des créatures avec le vol.)
Seul le guerrier qui admet une faiblesse mortelle peut recevoir la force immortelle.
English printing
Sorcery
Target creature gets +3/+3 and gains flying until end of turn. (It can't be blocked except by creatures with flying.)
Only the warrior who can admit mortal weakness will be bolstered by immortal strength.
Oracle
Angelic Blessing
Sorcery
Target creature gets +3/+3 and gains flying until end of turn. (It can't be blocked except by creatures with flying or reach.)