Printings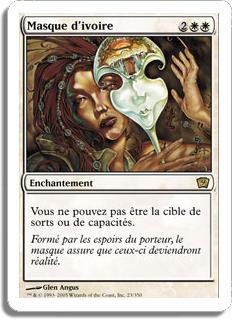 Comments
---
Informations
Expansion : 9ième Edition - 23/350 (card.rarity.R)
Artist : Glen Angus
French printing
Enchantement
Vous ne pouvez pas être la cible de sorts ou de capacités.
Formé par les espoirs du porteur, le masque assure que ceux-ci deviendront réalité.
English printing
Enchantment
You can't be the target of spells or abilities.
Made from its wearer's hopes, the mask ensures that those hopes will be fulfilled.
Oracle
Ivory Mask
Enchantment
You have shroud. (You can't be the target of spells or abilities.)