Printings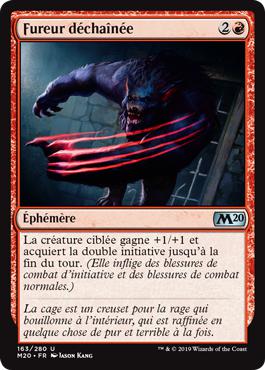 Comments
---
Informations
Expansion : Core Set 2020 - 163/344 (card.rarity.U)
Artist : Jason Kang
French printing
Éphémère
La créature ciblée gagne +1/+1 et acquiert la double initiative jusqu'à la fin du tour. (Elle inflige des blessures de combat d'initiative et des blessures de combat normales.)
La cage est un creuset pour la rage qui bouillonne à l'intérieur, qui est raffinée en quelque chose de pur et terrible à la fois.
English printing
Instant
Target creature gets +1/+1 and gains double strike until end of turn. (It deals both first-strike and regular combat damage.)
The cage is a crucible for the rage that builds inside, refining it into something pure and terrible.
Oracle
Uncaged Fury
Instant
Target creature gets +1/+1 and gains double strike until end of turn. (It deals both first-strike and regular combat damage.)