Printings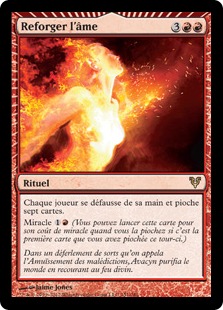 Comments
---
French printing
Rituel
Chaque joueur se défausse de sa main et pioche sept cartes.
Miracle (Vous pouvez lancer cette carte pour son coût de miracle quand vous la piochez si c'est la première carte que vous avez piochée ce tour-ci.)
Dans un déferlement de sorts qu'on appela l'Amuïssement des malédictions, Avacyn purifia le monde en recourant au feu divin.
English printing
Sorcery
Each player discards his or her hand and draws seven cards.
Miracle (You may cast this card for its miracle cost when you draw it if it's the first card you drew this turn.)
In a wave of spells called the Cursemute, Avacyn cleansed the world with divine fire.
Oracle
Reforge the Soul
Sorcery
Each player discards his or her hand and draws seven cards.
Miracle {1}{R} (You may cast this card for its miracle cost when you draw it if it's the first card you drew this turn.)