Impressions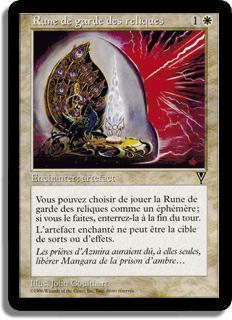 Commentaires
Informations
Extension : Visions - 16/167 (Peu commune)
Artiste : John Coulthart
Impression française
L'impression dans cette langue n'est pas encore disponible.
Impression anglaise
Enchant Artifact
You may choose to play Relic Ward as an instant; if you do, bury it at end of turn.
Enchanted artifact cannot be the target of spells or effects.
Asmira's prayers alone should have freed Mangara from the amber prison . . .
Oracle
Relic Ward
Enchantment - Aura
You may cast Relic Ward as though it had flash. If you cast it any time a sorcery couldn't have been cast, the controller of the permanent it becomes sacrifices it at the beginning of the next cleanup step.
Enchant artifact
Enchanted artifact has shroud. (It can't be the target of spells or abilities.)
Règles
Does not destroy Auras which are on the artifact, and it does not prevent Auras from being moved onto the artifact. [2005-08-01]
The sacrifice occur only if you cast it using its own ability. If you cast it using some other effect (for instance, if it gained flash from Vedalken Orrery), then it won't be sacrificed. [2009-10-01]