Printings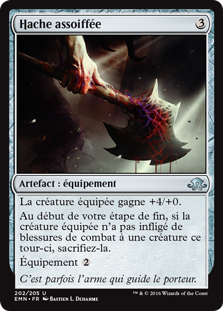 Comments
French printing
Artefact : équipement
La créature équipée gagne +4/+0.
Au début de votre étape de fin, si la créature équipée n'a pas infligé de blessures de combat à une créature ce tour-ci, sacrifiez-la.
Équipement
C'est parfois l'arme qui guide le porteur.
English printing
Artifact — Equipment
Equipped creature gets +4/+0.
At the beginning of your end step, if equipped creature didn't deal combat damage to a creature this turn, sacrifice it.
Equip
Sometimes the weapon wields the bearer.
Oracle
Thirsting Axe
Artifact - Equipment
Equipped creature gets +4/+0.
At the beginning of your end step, if equipped creature didn't deal combat damage to a creature this turn, sacrifice it.
Equip {2}
Rulings
If the equipped creature dealt combat damage only to a player or planeswalker, Thirsting Axe's triggered ability triggers. The same is true if the creature didn't deal combat damage at all. [2016-07-13]
Thirsting Axe's triggered ability checks whether the creature it's attached to at the moment your end step begins dealt combat damage to a creature earlier in the turn. It doesn't matter whether Thirsting Axe was attached to it (or to any creature at all) as combat damage was dealt. [2016-07-13]