Printings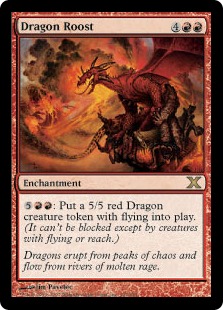 Comments
---
Informations
Expansion : Tenth Edition - 197/383 (card.rarity.R)
Artist : Jim Pavelec
English printing
Enchantment
: Put a 5/5 red Dragon creature token with flying into play. (It can't be blocked except by creatures with flying or reach.)
Dragons erupt from peaks of chaos and flow from rivers of molten rage.
French printing
Enchantement
 : Mettez en jeu un jeton de créature 5/5 rouge Dragon avec le vol. (Il ne peut être bloqué que par des créatures avec le vol ou la portée.)
Les dragons surgissent des pics du chaos et naissent des rivières de rage en fusion.
Oracle
Dragon Roost
Enchantment
{5}{R}{R}: Put a 5/5 red Dragon creature token with flying onto the battlefield. (It can't be blocked except by creatures with flying or reach.)