Printings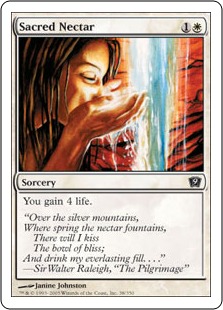 Comments
---
Informations
Expansion : Ninth Edition - 38/350 (card.rarity.C)
Artist : Janine Johnston
English printing
Sorcery
You gain 4 life.
"Over the silver mountains,
Where spring the nectar fountains,
There will I kiss
The bowl of bliss;
And drink my everlasting fill. . . ."
—Sir Walter Raleigh, "The Pilgrimage"
French printing
Rituel
Vous gagnez 4 points de vie.
On accepte une coupe de poison de celui qui vous a offert cent coupes de nectar.

—Proverbe indien
Oracle
Sacred Nectar
Sorcery
You gain 4 life.