Impressions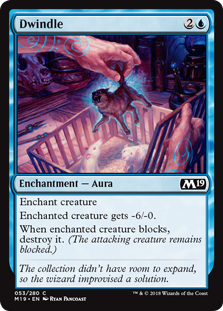 Commentaires
Informations
Extension : Core Set 2019 - 53/314 (Commune)
Artiste : Ryan Pancoast
Impression anglaise
Enchantment — Aura
Enchant creature
Enchanted creature gets -6/-0.
When enchanted creature blocks, destroy it. <i>(The attacking creature remains blocked.)</i>
The collection didn't have room to expand, so the wizard improvised a solution.
Impression française
Enchantement : aura
Enchanter : créature
La créature enchantée gagne -6/-0.
Quand la créature enchantée bloque, détruisez-la. (La créature attaquante reste bloquée.)
Il n'y avait plus la place de continuer la collection, le sorcier dut donc improviser.
Oracle
Dwindle
Enchantment - Aura
Enchant creature
Enchanted creature gets -6/-0.
When enchanted creature blocks, destroy it. (The attacking creature remains blocked.)
Règles
Once the enchanted creature is destroyed, the attacking creature won't assign or deal combat damage unless it has trample or is being blocked by another creature. [2018-07-13]