Printings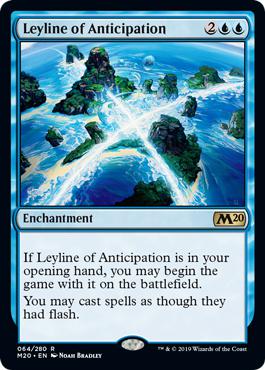 Comments
---
Informations
Expansion : Core Set 2020 - 64/344 (card.rarity.R)
Artist : Noah Bradley
English printing
Enchantment
If Leyline of Anticipation is in your opening hand, you may begin the game with it on the battlefield.
You may cast spells as though they had flash.
French printing
Enchantement
Si la Ligne ley de prescience est dans votre main de départ, vous pouvez l'avoir sur le champ de bataille au début de la partie.
Vous pouvez lancer les sorts comme s'ils avaient le flash.
Oracle
Leyline of Anticipation
Enchantment
If Leyline of Anticipation is in your opening hand, you may begin the game with it on the battlefield.
You may cast nonland cards as though they had flash. (You may cast them any time you could cast an instant.)
Rulings
Your "opening hand" is the hand of cards you decide to start the game with after taking any mulligans. [2010-08-15]
After all players have decided not to take any more mulligans, if the starting player has any Leylines in his or her hand, he or she may put any or all of them onto the battlefield. Then each other player in turn order may do the same. [2010-08-15]
Leylines that start the game on the battlefield aren't cast as spells. They can't be countered. [2010-08-15]
After each player has exercised his or her option to put Leylines onto the battlefield, the first turn of the game begins. [2010-08-15]