Impressions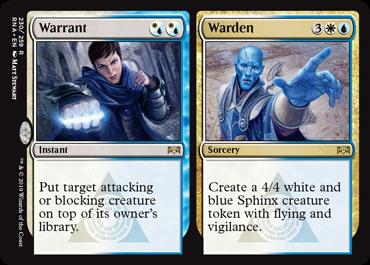 Commentaires
Impression française
Éphémère // Rituel
Mettez la créature attaquante ou bloqueuse ciblée au-dessus de la bibliothèque de son propriétaire.

L'impression dans cette langue n'est pas encore disponible.
Oracle
Warrant
Instant
Put target attacking or blocking creature on top of its owner's library.

Warden
Sorcery
Create a 4/4 white and blue Sphinx creature token with flying and vigilance.
Règles
An "attacking creature" is one that has been declared as an attacker or put onto the battlefield attacking during this combat. Unless that creature leaves combat, it continues to be an attacking creature through the end of combat step, even if the player it was attacking has left the game or the planeswalker it was attacking has left combat. Similarly, a "blocking creature" is one that has been declared as a blocker or put onto the battlefield blocking during this combat. [0000-00-00]