Printings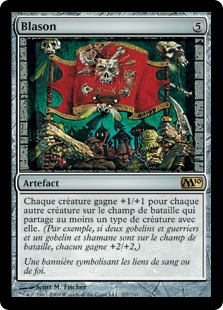 Comments
---
Informations
Expansion : Magic 2010 - 207/249 (card.rarity.R)
Artist : Scott M. Fischer
French printing
Artefact
Chaque créature gagne +1/+1 pour chaque autre créature sur le champ de bataille qui partage au moins un type de créature avec elle. (Par exemple, si deux gobelins et guerriers et un gobelin et shamane sont sur le champ de bataille, chacun gagne +2/+2,)
Une bannière symbolisant les liens de sang ou de foi.
English printing
Artifact
Each creature gets +1/+1 for each other creature on the battlefield that shares at least one creature type with it. (For example, if two Goblin Warriors and a Goblin Shaman are on the battlefield, each gets +2/+2.)
A banner for bonds of blood or belief.
Oracle
Coat of Arms
Artifact
Each creature gets +1/+1 for each other creature on the battlefield that shares at least one creature type with it. (For example, if two Goblin Warriors and a Goblin Shaman are on the battlefield, each gets +2/+2.)
Rulings
If a creature has more than one creature type, and one of those types matches the creature you are calculating for, then count that creature. Only one type needs to match in order to get counted. [2004-10-04]
If you have a creature with more than one creature type, count all creatures which have either creature type. [2004-10-04]
Sharing multiple creature types doesn't give an additional bonus. Coat of Arms counts creatures, not creature types. [2009-10-01]