Printings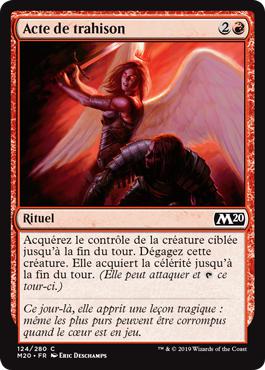 Comments
---
Informations
Expansion : Core Set 2020 - 124/344 (card.rarity.C)
Artist : Eric Deschamps
French printing
Rituel
Acquérez le contrôle de la créature ciblée jusqu'à la fin du tour. Dégagez cette créature. Elle acquiert la célérité jusqu'à la fin du tour. (Elle peut attaquer et ce tour-ci.)
Ce jour-là, elle apprit une leçon tragique : même les plus purs peuvent être corrompus quand le cœur est en jeu.
English printing
Sorcery
Gain control of target creature until end of turn. Untap that creature. It gains haste until end of turn. (It can attack and this turn.)
She learned a tragic lesson that day: even the purest can be corrupted when the heart's emotions are twisted.
Oracle
Act of Treason
Sorcery
Gain control of target creature until end of turn. Untap that creature. It gains haste until end of turn. (It can attack and {T} this turn.)
Rulings
Act of Treason can target any creature, even one that's tapped or one you already control. [2009-10-01]
Gaining control of a creature doesn't cause you to gain control of any Auras or Equipment attached to it. [2010-08-15]