Impressions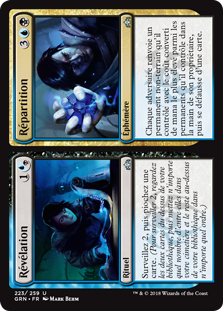 Commentaires
Impression française
Rituel // Éphémère
Surveillez 2, puis piochez une carte. (Pour surveiller 2, regardez les deux cartes du dessus de votre bibliothèque, puis mettez n'importe quel nombre d'entre elles dans votre cimetière et le reste au-dessus de votre bibliothèque dans n'importe quel ordre.)


L'impression dans cette langue n'est pas encore disponible.
Oracle
Discovery
Sorcery
Surveil 2, then draw a card. (To surveil 2, look at the top two cards of your library, then put any number of them into your graveyard and the rest on top of your library in any order.)
Dispersal
Instant
Each opponent returns a nonland permanent they control with the highest converted mana cost among permanents they control to its owner's hand, then discards a card.
Règles
When you surveil, you may put all the cards you look at back on top of your library, you may put all of those cards into your graveyard, or you may put some of those cards on top and the rest of them into your graveyard. [2018-10-05]
You perform the actions stated on a card in sequence. For some spells and abilities, you'll surveil last. For others, you'll surveil and then perform other actions. [2018-10-05]
If an opponent controls only lands as Dispersal resolves, that player won't return any permanent to their hand. They'll still discard a card. [2018-10-05]
If a permanent has [Variable Colorless] in its mana cost, X is considered to be 0. [2018-10-05]
As Dispersal resolves, first the next opponent in turn order (or, if it's an opponent's turn, that opponent) chooses a nonland permanent they control with the highest mana cost among those permanents, then each other opponent in turn order does the same, knowing the choices made before them. Then all the chosen permanents are returned at the same time. Next, each opponent in the same order chooses a card in hand without revealing it, then the chosen cards are discarded at the same time. [2018-10-05]