Impressions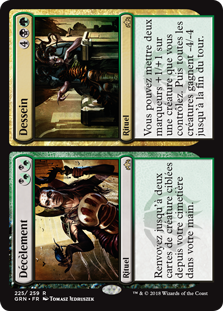 Commentaires
Impression française
Rituel // Rituel
Renvoyez jusqu'à deux cartes de créature ciblées depuis votre cimetière dans votre main.


L'impression dans cette langue n'est pas encore disponible.
Oracle
Find
Sorcery
Return up to two target creature cards from your graveyard to your hand.
Finality
Sorcery
You may put two +1/+1 counters on a creature you control. Then all creatures get -4/-4 until end of turn.
Règles
Finality doesn't target the creature to receive +1/+1 counters. You can cast it even if you control no creatures. [2018-10-05]
Finality affects only creatures on the battlefield at the time it resolves. Creatures that enter the battlefield later in the turn won't get -4/-4. [2018-10-05]