Printings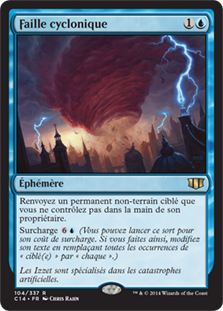 Comments
---
Informations
Expansion : Commander 2014 - 104/337 (card.rarity.R)
Artist : Chris Rahn
French printing
Éphémère
Renvoyez un permanent non-terrain ciblé que vous ne contrôlez pas dans la main de son propriétaire.
Surcharge (Vous pouvez lancer ce sort pour son coût de surcharge. Si vous faites ainsi, modifiez son texte en remplaçant toutes les occurrences de « ciblé(e) » par « chaque ».)
Les Izzet sont spécialisés dans les catastrophes artificielles.
English printing
Instant
Return target nonland permanent you don't control to its owner's hand.
Overload (You may cast this spell for its overload cost. If you do, change its text by replacing all instances of "target" with "each.")
The Izzet specialize in unnatural disaster.
Oracle
Cyclonic Rift
Instant
Return target nonland permanent you don't control to its owner's hand.
Overload {6}{U} (You may cast this spell for its overload cost. If you do, change its text by replacing all instances of "target" with "each.")