Printings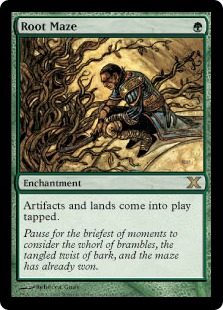 Comments
---
Informations
Expansion : Tenth Edition - 292/383 (card.rarity.R)
Artist : Rebecca Guay
English printing
Enchantment
Artifacts and lands come into play tapped.
Pause for the briefest of moments to consider the whorl of brambles, the tangled twist of bark, and the maze has already won.
French printing
Enchantement
Les artefacts et les terrains arrivent en jeu engagés.
Si vous vous arrêtez un bref instant pour scruter les bosquets de ronces et les entrelacs d'écorce, le labyrinthe a déjà gagné.
Oracle
Root Maze
Enchantment
Artifacts and lands enter the battlefield tapped.