Printings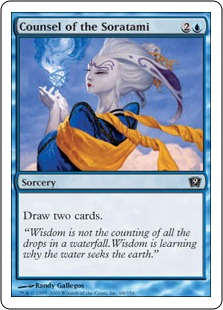 Comments
---
Informations
Expansion : Ninth Edition - 69/350 (card.rarity.C)
Artist : Randy Gallegos
English printing
Sorcery
Draw two cards.
"Wisdom is not the counting of all the drops in a waterfall. Wisdom is learning why the water seeks the earth."
French printing
Rituel
Piochez deux cartes.
« Le sage ne compte pas les gouttes de la cascade. Il cherche à savoir pourquoi l'eau désire retrouver la terre. »
Oracle
Counsel of the Soratami
Sorcery
Draw two cards.