Impressions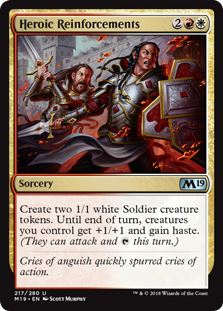 Commentaires
Informations
Extension : Core Set 2019 - 217/314 (Peu commune)
Artiste : Scott Murphy
Impression anglaise
Sorcery
Create two 1/1 white Soldier creature tokens. Until end of turn, creatures you control get +1/+1 and gain haste. <i>(They can attack and this turn.)</i>
Cries of anguish quickly spurred cries of action.
Impression française
Rituel
Créez deux jetons de créature 1/1 blanche Soldat. Jusqu'à la fin du tour, les créatures que vous contrôlez gagnent +1/+1 et acquièrent la célérité. (Elles peuvent attaquer et ce tour-ci.)
Les hurlements d'angoisse encouragèrent rapidement les cris d'action.
Oracle
Heroic Reinforcements
Sorcery
Create two 1/1 white Soldier creature tokens. Until end of turn, creatures you control get +1/+1 and gain haste. (They can attack and {T} this turn.)
Règles
The second part of Heroic Reinforcements's effect affects only creatures you control at the time it's applied, including the tokens created by the first part of its effect. Creatures you begin to control later in the turn won't get +1/+1 or gain haste. [2018-07-13]